Session Outline
How Data Science, Machine Learning, Deep Learning models can give companies competitive advantage, increase sales/customer base and increased customer satisfaction.
Brief about Data Science, ML models and Deep Learning models. What's the wor
How Data Science can even manipulate peoples' minds. What are neural networks and how they imitate human brain.
Excess of everything is bad. Dirty side of data science. What is over learning of the ML models? How elections are being conducted across the world? What was the role of Cambridge Analytica in Trump's election?
This age Is not about laborious work but of automation. The world we are moving towards would only accommodate those who have a skill and adds value. The ones who do repetitive jobs would be replaced by Robots.. Routine tasks will be the first to go—and thanks to advances in robotics engineering, both physical and cognitive tasks will be affected. Nonroutine jobs will be next: surgeons, novelists, construction workers, police officers, and so forth. These jobs could all be fully automated during the 2040s. By 2060, AI-based robots will be capable of performing any task currently done by humans.
We should be asking ourselves, What do we want AI to do? And when? How fast do we want to bring it online? How are we going to control the pace of it's emergence? To what degree should it emerge at all? Because AI emergence would be taking human jobs in the next three decades if we keep going on this pace.
Key Takeaways
How businesses can benefit from AI
Why Data Science, AI, ML, DL is the sexiest job of 21st Century
How AI would be taking over jobs
How AI helps in the negative side of things
Sentiment Analysis
Pros and Cons of AI
————————————————————————————————————————————————————
Bio
Zain Ali – Associate Director/Manager Insights | National Australia Bank | Australia
Zain is a Data Scientist, researcher and an AI leader with a proven track record of leading, designing and implementing machine learning, AI and data science solutions. Through years of experience working across various industries, he has helped numerous organisations build innovative and progressive corporate strategies fostered by advancements in data science and AI. Zain is currently working as an Associate Director AI at National Australia Bank. He is also the founder of PyRapidML python library. PyRapidML is the most used AutoML library that is open-source and low-code that automates machine learning workflows. Based on his career progression and achievements, he has been featured in Top 30 under 30.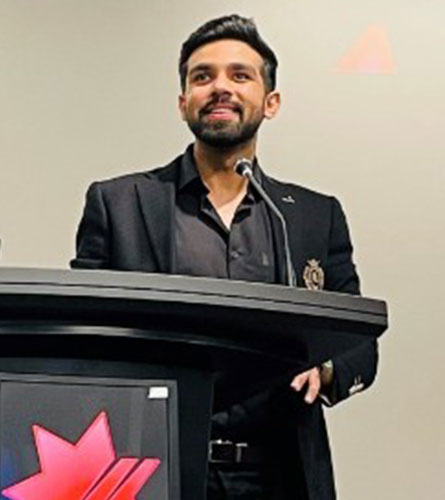 September 15 @ 14:05
ANZ-Stage 1
Zain Ali – Associate Director/Manager Insights | National Australia Bank | Australia