Session Outline
ML model building takes a good time, getting insights out of it is also not easy, but tougher is to deploy, monitor and manage them, ensure the feedback loop and keep improving the model to ensure best results. How to do it?
This also includes a good amount of money – how to prove ROI? Which models should be deployed, which not and how to improve ROI?
Key Takeaways
How to do it?

How to prove ROI?

Which models should be deployed?
————————————————————————————————————————————————————
Bio
Ujjyaini Mitra – Head of Data | ZEE5
Ujjyaini, who passionately loved solving Mathematics puzzles as a child, who left behind the opportunities to join IIT but chose to study Mathematics and Theoretical Computer Science at Chennai Mathematical Institute and then pursued Quantitative Economics at her Masters from ISI Kolkata, received an offer to join McKinsey, one of the world's best management consulting firm as an Analyst, when she didn't even know what is Analytics. McKinsey introduced her to the world of Data Science and she spend 6.5 years in travelling across the Globe and solving challenging business cases cross industry – FMCG, Telecom-Media-Tech, E-commerce, Logistics as well as Macro Economic Policy at Govt level.
She then went on to build and lead the Advanced Analytics team of Bharti Airtel, India – where she built a strong team of analysts who delivered few time critical strategic projects in decision science. She ventured the e-commerce domain with India's first successful startup-Flipkart and joined Media space with Viacom18 Media Pvt Ltd and currently with Zee5 to drive the enterprise level goal of Data driven decision making and monetizing data through right actionable insights. 
As a part of her interest to mentor budding managers and data scientists, she joins hands with various institutions and organizations like IIM Ahmedabad, IMT Ghaziabad, SPJain, SPM, Data Science Foundation etc where she shares her industry experience with students. Being a student at the core of her heart she speaks at various conclaves to share her learnings and learn in turn and thus help spreading knowledge with broader group of Analytics enthusiasts. 
Beyond her corporate job, she is a certified Hatha Yoga teacher, avid adventure lover and escapes to unknown terrains of Himalaya where she spends time camping amidst marmots or meditating with Buddhists monks or bohemian sojourn atop trucks or learning to prepare yellow cheese from Brokpa tribes. She strongly believes – "The greatest hazard in life is to risk nothing".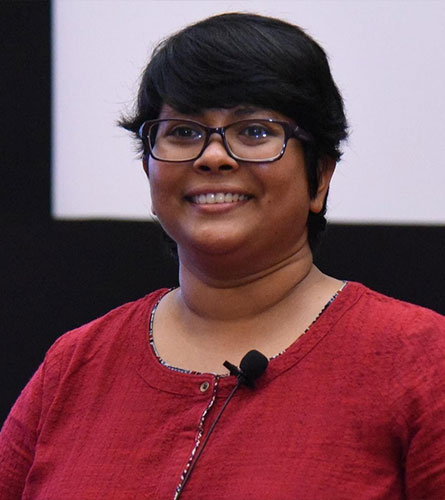 October 23 @ 11:00
Ujjyaini Mitra – Head of Data | ZEE5